The creation of EnviroKlenz® was inspired by our Customers with multiple chemical sensitivities and environmental illnesses. We have been honored to be able to work closely with them and learn from their experience and feedback. Through their recommendations we were able to introduce a product line that is both effective and safe for everyone—especially those with illnesses triggered by environmental exposures.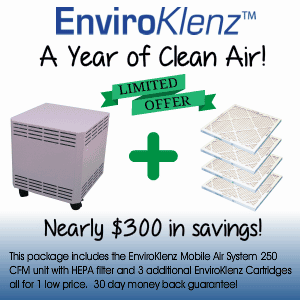 We have worked vigorously and diligently to test our products with MCS influencers and support groups to provide "Personal Environmental Protection for Everyone." We look forward to continuing our work with those affected by Multiple Chemical Sensitivities, to provide resources and products that will help overcome the challenges of living in our toxic world.
The EnviroKlenz program is a process that addresses odors and chemical contamination in air space, surfaces, and on contents through a variety of products to collectively create a clean air environment.
Each EnviroKlenz product is made from various combinations of our proprietary metal oxides powders. These earth mineral powders include our proprietary NanoActive® Magnesium Oxide (MgO), Zinc Oxide (ZnO), and Titanium Dioxide (TiO2) materials. We combine them to achieve the right balance of active components to suit the desired application.
The EnviroKlenz® Mobile Air System improves your personal environment air quality by removing chemical odors, fragrances, VOCs, particulates, and allergens all in one process. The patented EnviroKlenz technology neutralizes chemicals, pollutants, and fragrances, while the high-efficiency particulate air (HEPA) filter removes harmful dust, particulate, allergens, pet dander, and more. If you want to learn how to detect toxic mold in your home and if EnviroKlenz products can help you, please read our in-depth guide.
The process utilizes EnviroKlenz technology in the multistage filtration treatment to adsorb, neutralize, and eliminate chemical pollutants coming from a broad array of sources while removing airborne particles such as dust and miscellaneous debris to improve indoor air quality. The processor moves air through a polyester filter pad, an EnviroKlenz Air Cartridge, followed by HEPA filtration. What makes the total process unique is the use of the EnviroKlenz advanced chemical treatment technology for the control of odor causing molecules and a broad array of hazardous indoor pollutants.