Air Filters for Wildfire Smoke
Air filters for wildfire smoke have become increasingly more critical as every year the Northwest is plagued with wildfires, sometimes to a devastating magnitude. Last year was the most expensive firefighting year on record for the US Forest Service with well over $2 billion spent. The total number of fires occurring in 2017 was about 66,131 fires which burned 9,781,062 acres according to the NOAA – National Centers for Environmental Information [link: https://www.ncdc.noaa.gov/sotc/fire/201713]. When wildfires occur in your environment, the hazards are not only present in your environment, but to the health of those exposed to the potentially toxic wildfire smoke. Wildfire smoke is composed of a tremendous concentration of very fine particulate matter that can wreak havoc on your health. Even if you barricade yourself inside the confines of your home, the microscopic particulate matter can get carried by the wind and percolate into your house.
Wildfire smoke consists of both large, visible particles of ash, and ultra-fine particles that you cannot see. These pollutants are so fine that they can enter into your bloodstream when you breathe it in, which makes this type of smoke so dangerous. The particulate matter can aggravate asthma symptoms and cause reduced lung function and wheezing in many who are exposed.
How to Filter Out Forest Fire Smoke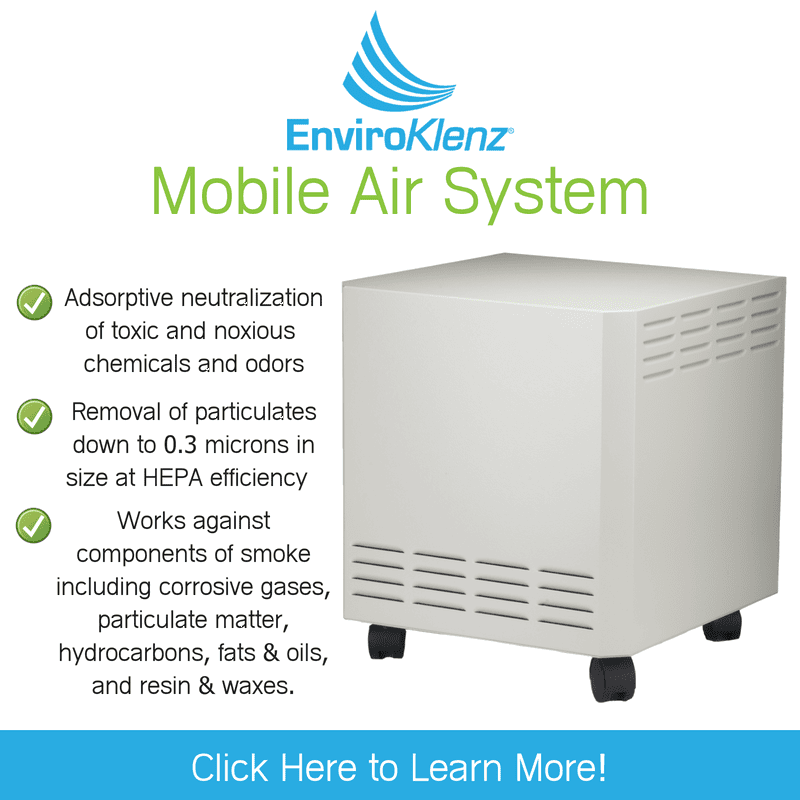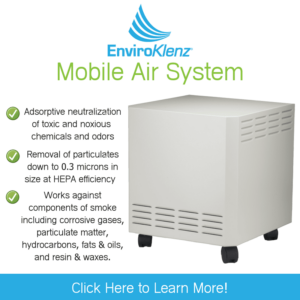 Forest fire smoke can impact your health and learning how to filter our forest fire smoke from your indoor air could be essential to shielding and protecting your health. The pollution from wildfire smoke can be particularly tough to escape in mountainous regions like Montana, Wyoming, and Colorado. In this type of terrain, the smoke will descend on the valley and will begin its power of making your environment disappear under a thick white wall of smoke. This smoke will then find its way into your home, which can be magnified for areas where air conditioning is rare, resulting in people opening their windows for relief through the hot summer months. And when you do not have a central air system with filtration, you need to have some sort of protection in your home to combat these particulate matters. The best defense against the wildfire smoke particulates in your home is through the use of an air filtration system – particularly one that has a HEPA filter, which can reduce the fine particulate matter in a room by more than 99 percent. With the EnviroKlenz Mobile Air System, it will provide double protection inside your indoor environment, with both a patented earth mineral technology VOC Cartridge – that is effective at eliminated a broad spectrum of chemicals and odors- and a hospital-grade HEPA filter. The EnviroKlenz Mobile System and its effective technology can eliminate components of smoke including the following:
✓ Corrosive Gases
✓ Hydrocarbons
✓ Particulate Matter
✓ Fats & Oils
✓ Resin & Waxes
Be prepared this wildfire season and arm your indoor environment with an effective air purification system to ensure that your health is not compromised by particulate matter found in smoke from a wildfire.
Our Recommended Solution…
[show_product_inpage product_id=99]
The EnviroKlenz Mobile Air System is your solution to removing VOCs and chemical pollutants from your indoor environment. With the use of a hospital-grade HEPA filter and an effective earth mineral technology air cartridge, this two-stage filtration is perfect to place in your indoor space to mitigate potential hazards to your health. Whether you have chemical sensitivities, allergies, or are just looking to improve your indoor air quality, the EnviroKlenz Mobile Air System is your answer!
✓ Simple and Easy to Set-Up, with Minimal Maintenance
✓ Replace Air Cartridge every 4 to 6 Months
✓ HEPA Filter Replaced Every Two Years
✓ Quiet Operation, 4-Speed Motor
✓ No Chemical Odors Released!
We are confident that our EnviroKlenz Technology will drastically reduce the odors in your home, if it doesn't live up to your expectations, we will issue a full refund within 30 days of your purchase!
Click below to buy NOW!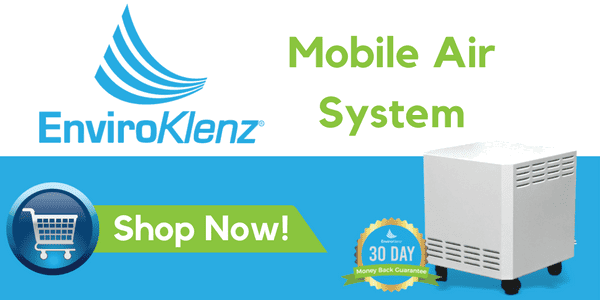 Hear What People Are Saying About Us…
"Months after the 2017 Forest Fire Season, previously known as summertime in western Montana, that fine particulate we all breathed for weeks on end continues to be problematic. Persistent sinus issues, in particular, have become a norm. We are planning a big push to introduce our patient population to the Enviro-Klenz family of air-filtration products. The folks at EnviroKlenz have developed an affiliate program that brings long-term benefits to the practitioner as well as the patient; and, they responded immediately to our ask for support, by developing a data sheet specifically for the wood-smoke aspects of their filtration systems. Enviro-Klenz is a responsible and responsive company I am delighted to be working with."

Nancy Dunne, Montana Association of Naturopathic Physicians -⭐⭐⭐⭐⭐

"I absolutely LOVE my Enviroklenz air purifier. I live in Los Angeles with very poor air quality. In my home I now have peace of mind that my indoor air quality is safe and relish coming home after breathing in toxic air when I'm out. Detox is the top priority in my home and my air purifier helps me to meet my health goals by preventing toxins from entering my body via the air."

Wendy Myers, Media Kit -⭐⭐⭐⭐⭐