Best Air Purifier for Smoke 2018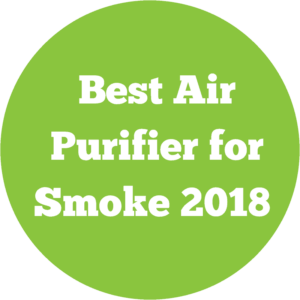 What is the best air purifier for smoke 2018? Every year we are bound to experience dry spells in areas of the United States, which in turn create a drastic increase in the development of wildfires. The smoke is most prominent in the west coast but can spread across many parts of the Midwest and south. Last year the United States saw a record number of wildfires with over 50,000 wildfires and more than 3.4 million acres burned. And as the burning progresses, and smoke is filled into the air, toxic chemicals and compounds are released into the air that could become a hazard to those exposed.
Wildfires release large amounts of carbon dioxide, and also emits substantial amounts of volatile organic materials and nitrogen oxides that form ozone and organic particulate matter. Once this blend of hazard is released into the air by direct emission it can potentially affect not only first responders but also anyone else who is exposed to the hazardous smoke that is produced by a wildfire.
Different types of air pollution can have different impacts on the human body. Exposure to particles from wildfire smoke can cause respiratory difficulties which can include chest pains, a fast heartbeat or an asthma attack. Due to these inherent risks associated with exposure to wildfire smoke, the importance of having an effective air purifier is almost critical during a wildfire.
Determining the Best Air Purifier for Smoke – from a Wildfire
Many air purifiers labeled as "air purifiers for smoke" are designed to remove smoke caused by any type of fire, these could be helpful when experiencing any type of smoke, but especially during wildfire seasons. Finding the best air purifier smoke remover – with a true HEPA filter – that removes particulates that are dispersed throughout by wildfire smoke is important in guarding your environment and your health. The EnviroKlenz Mobile Air System not only has a hospital-grade HEPA filter that will be effective against the corrosive chemical compounds released by wildfire smoke but also contains a patented VOC air cartridge that will take in and break down a broad spectrum of chemicals and noxious odors. Just a few of the components of smoke that EnviroKlenz can help with include:
Corrosive Gases
Particulate matter
Hydrocarbons
Fats & Oils
Resins & waxes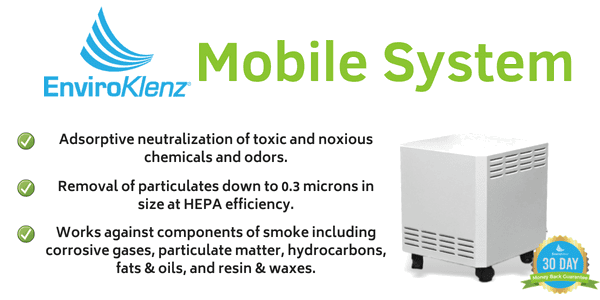 Our Recommended Solution…
EnviroKlenz Recommends
EnviroKlenz Mobile Air System

$729.99
4-speed controls
Comes with EnviroKlenz Air Cartridge (VOC Neutralization) & HEPA filter (particulate removal)
Height: 19: x Width: 15" x Depth: 15"
Net weight: 38 lbs
Power: 115V / 60Hz / 1 amp
CFM Rating: 85, 150, 200 & 250
4 speed blower
EnviroKlenz Mobile Air System, 250 CFM Type – 115V
One of the best air cleaner options on the market
The EnviroKlenz Mobile Air System is your solution to removing VOCs and chemical pollutants from your indoor environment. With the use of a hospital-grade HEPA filter and an effective earth mineral technology air cartridge, this two-stage filtration is perfect to place in your indoor space to mitigate potential hazards to your health. Whether you have chemical sensitivities, allergies, or are just looking to improve your indoor air quality, the EnviroKlenz Mobile Air System is your answer!
✓ Simple and Easy to Set-Up, with Minimal Maintenance
✓ Replace Air Cartridge every 4 to 6 Months
✓ HEPA Filter Replaced Every Two Years
✓ Quiet Operation, 4-Speed Motor
✓ No Chemical Odors Released!
We are confident that our EnviroKlenz Technology will drastically reduce the odors in your home, if it doesn't live up to your expectations, we will issue a full refund within 30 days of your purchase!
Click below to buy NOW!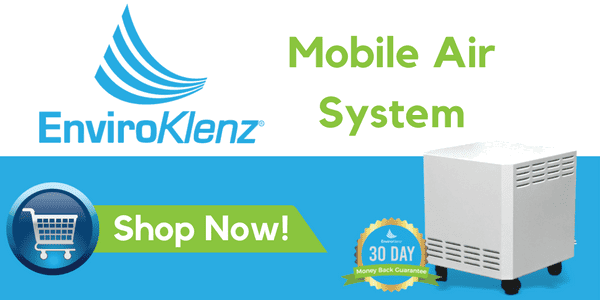 Hear What People Are Saying About Us…