How to Use The EnviroKlenz UV Mobile System
The EnviroKlenz® Mobile Air System with UV Light combines Advanced EnviroKlenz technology for toxic and noxious chemical and odor removal with HEPA filtration and ultraviolet germicidal radiation (UVC) to remove airborne particulates and allergens, and inhibit growth of captured microorganisms (such as bacteria, mold and viruses).
The UV System has UVC lamps are located before (and radiating on) the collection side of the HEPA filter. Unlike systems that depend on killing/inactivating the organisms as they pass through the UVC light in a very short period of time, the UVC light is continuously shining on the collected organisms with a very high efficiency of kill.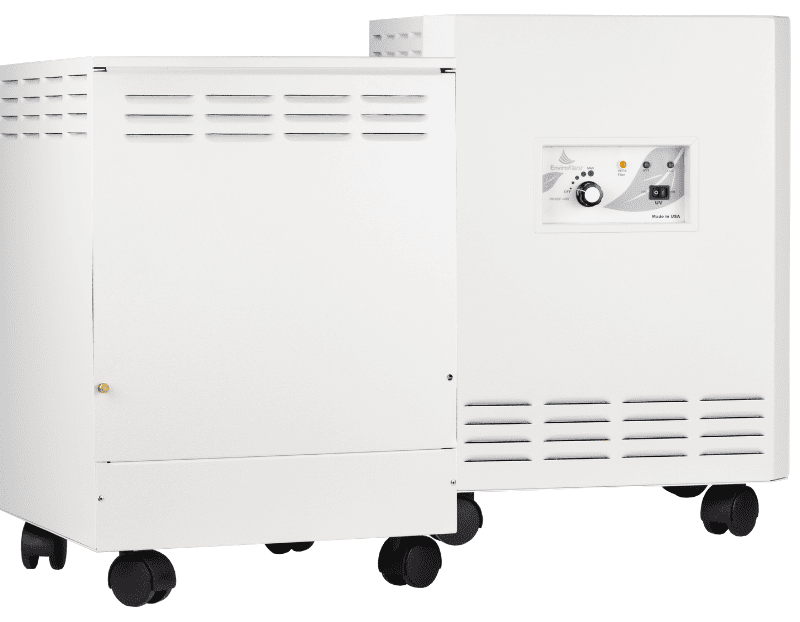 ✓ UV Mobile Air Unit System
✓ Stage 1 EnviroKlenz Air Filter Cartridge
✓ Stage 2 Filter (VOC Cartridge & Medical Grade HEPA Filter)
✓ UVC Light Bulbs
✓ User Manual – Please Read Manual Before First Use and Save for Future Reference
✓ Product Literature
How to Use the EnviroKlenz Mobile UV System
1.Remove the back panel of the UV System by unscrewing the two thumb screws located on each side – no tools needed to remove these screws!
2. Install the two UV light bulbs by pushing them each into place on both sides.
3. Slide the EnviroKlenz Air Cartridge above the UV lights, with the air flow arrow pointing downward- the air flows from the top of the system down to the bottom, as the clean, purified air is re-released back into the environment.
4. Place your HEPA filter in the UV system – making sure to place it on the bottom, below the UV lights.
5. Place the back panel back on the EnviroKlenz Mobile UV System – screwing in the two thumb screws on the back panel. Make sure to securely close the back panel in order for the UV system to work.
6. Plug in the Mobile UV System into an electrical outlet, and select your desired speed on the front of the system – 4 speeds (High, Med, Low, Whisp-Air), be sure to flip on the UV light switch to start working on the trapped microorganisms inside the system.
Application & Instruction Guide
Place the EnviroKlenz Mobile UV System in the center of the room with both stage filter installed.  Plug the unit in and turn the unit on high.  The system will quickly exchange the air several times over the course of a few hours. When running the system on High, you will receive the full 250 CFM of air exchange.
The EnviroKlenz Mobile UV System can be used in bedrooms, living rooms, kitchens, basements, and even gyms. Anywhere with potential mold growth indoors could use this system to help trap and kill the released mold spores in the environment.
Even use it when working on a Renovation/ Refurbishing Projects or any type of Maintenance in your indoor environment!
EnviroKlenz Mobile UV Model Testimonials
"My toddler and I both have severe allergies and asthma. This system really cleans the air and not just traps it into a filter. I notice a huge difference the moment I turn it on and highly recommend this over any other units on the market!"
Edward G.-⭐⭐⭐⭐⭐
"It's been a week since we have started using it. It makes the room air that previously had mold smell crisp and fresh and I feel better knowing that the spores are being destroyed with the UV bulbs."
Gerald K.-⭐⭐⭐⭐
"Definitely 5 stars! I have owned several air purifiers and this one is the best! We had it in a room that was treated for mold and was recently gutted and rebuilt. It was amazon how fast it took away the paint smells and fumes and we now keep it and run it in our bedroom daily."
Beneito G.-⭐⭐⭐⭐⭐
"This is a great air purifier for VOCs and mold removal, quiet on low and medium settings but high is a bit noisy unless you're not going to sleep. I have no complaints and I am saving up to buy another one!"
Douglas F.-⭐⭐⭐⭐⭐