Smoke caused by a wildfire can cause a multitude of serious health concerns for people exposed that have any kind of breathing disorder – especially allergies which wildfire smoke can then trigger wildfire smoke allergies. Allergies are a major cause of illness in the United States, with as many as 50 million people affected by this health condition. Smoky air can also cause irritation that will make other allergies seem worse than normal. This is mainly due to the elevated levels of PM2.5, which are very small bits of either a liquid or a solid that is suspended into the air. These particles are very small, and the dangers are presented when you inhale this matter into your lungs where it can then enter the bloodstream. After the particulate matter has entered into your body you may start to experience difficulty breathing, or a feeling of light-headedness – children are increasingly more at risk due to the amount of air they breathe in compared to adults.
Fire Smoke Allergy Symptoms to Look Out For
Smoke from wildfires contain gases along with fine particles generated from burning trees and plants in the environment. Wildfire smoke can cause a number of physical symptoms and specifically affect people who are more susceptible to hazardous conditions such as the elderly, children, or those suffering from heart and lung conditions.
Fire smoke allergy symptoms can include the following:
A cough or shortness of breath
Scratchy or a sore throat
Chest pain
Burning pain in the eyes
A runny nose or inflamed sinuses
A headache
Wheezing
If a wildfire is raging near your home, you want to make sure to take precautionary steps to protect yourself and minimize potential health issues that could result from exposure to wildfire smoke, such as progressed allergy symptoms. The first thing you want to do is minimize outdoor exposure time as much as possible. The longer you are outdoors in the hazardous conditions the more at risk you become of acquiring a symptom or health issue from the exposure. The next step is protecting your indoor air from potential wildfire smoke that could find its way into your home. An air purification system with an effective HEPA filter is the preferred filtration that you will want to have when combating wildfire smoke. The EnviroKlenz Mobile Air System not only utilizes a hospital-grade HEPA, to ensure the removal of small particulate matter – up to 0.3 microns in size – from your air that a wildfire could pollute in your air but will also eliminate corrosive gases that are composed in wildfire smoke, using our patented technology VOC air cartridge. The EnviroKlenz VOC Air Cartridge works on the following components of wildfire smoke:
✓ Corrosive Gases
✓ Particulate Matter
✓ Hydrocarbons
✓ Fats & Oils
✓ Resins & Waxes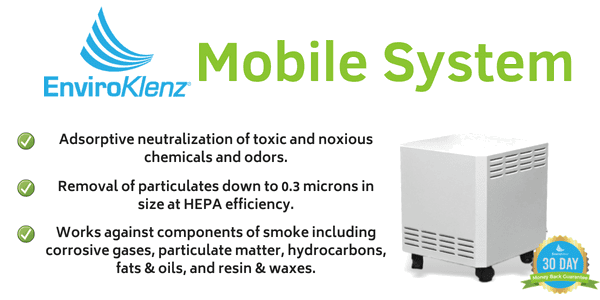 Our Recommended Solution…
EnviroKlenz Recommends
EnviroKlenz Mobile Air System

$729.99
4-speed controls
Comes with EnviroKlenz Air Cartridge (VOC Neutralization) & HEPA filter (particulate removal)
Height: 19: x Width: 15" x Depth: 15"
Net weight: 38 lbs
Power: 115V / 60Hz / 1 amp
CFM Rating: 85, 150, 200 & 250
4 speed blower
EnviroKlenz Mobile Air System, 250 CFM Type – 115V
One of the best air cleaner options on the market
The EnviroKlenz Mobile Air System is your solution to removing VOCs and chemical pollutants from your indoor environment. With the use of a hospital-grade HEPA filter and an effective earth mineral technology air cartridge, this two-stage filtration is perfect to place in your indoor space to mitigate potential hazards to your health. Whether you have chemical sensitivities, allergies, or are just looking to improve your indoor air quality, the EnviroKlenz Mobile Air System is your answer!
✓ Simple and Easy to Set-Up, with Minimal Maintenace
✓ Replace Air Cartridge every 4 to 6 Months
✓ HEPA Filter Replaced Every Two Years
✓ Quiet Operation, 4-Speed Motor
✓ No Chemical Odors Released!
We are confident that our EnviroKlenz Technology will drastically reduce the odors in your home, if it doesn't live up to your expectations, we will issue a full refund within 30 days of your purchase!
Click below to buy NOW!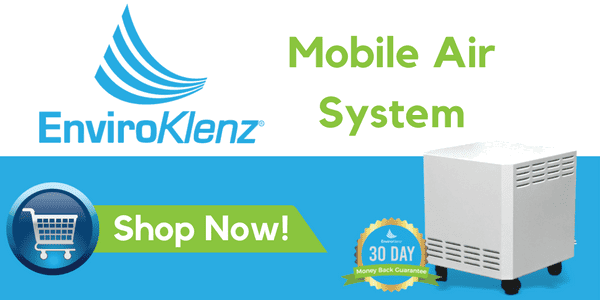 Hear What People Are Saying About Us…