Will Air Purifier Help with Smoke
When wildfires occur in your backyard, will air purifier help with smoke from the wildfires? Smoke is composed of the main components of carbon dioxide, carbon monoxide, water vapor, particulate matter, hydrocarbons, and other organic chemicals such as nitrogen oxides, trace minerals, and several thousand other compounds. However, the real composition of smoke depends on the fuel type, the temperature of the fire, and the wind conditions. And when you are exposed to these potentially hazardous compounds in the air you could be placing your health in a compromising position.
People exposed to toxic air pollutants at sufficient concentrations and durations may have slightly increased risks of cancer or start experiencing other chronic health problems. The major effects of smoke range from eye and respiratory tract irritation to a more serious disorder, including reduced lung function, bronchitis, exacerbation of asthma, and premature death. However, not everyone who is exposed to thick some will have health problems. In reality, most healthy adults and children who are exposed to smoke will recover quickly and not suffer from any long-term consequences. Whereas those with certain sensitivities could possibly experience more severe short-term and persistent symptoms from smoke exposure. Smoke from a wildfire (link: https://www.epa.gov/sciencematters/danger-wildland-fire-smoke-public-health) is more hazardous to those who have pre-existing health conditions including asthma, chronic respiratory disease, cardiovascular disease, people over the age of 64, infants and children, pregnant women, and smokers.
Benefits of Having an Air Purifier for Wildfire Smoke
Wildfires can spread debris, smoke, and its toxic chemicals throughout the environment as it spreads in the air by the wind. The debris will be carried for tens or even hundreds of miles and have been linked to respiratory and heart problems. The smoke that has the potential to make its way into your home, tainting your indoor air quality and polluting your home. When you are left with the particulate matter from wildfires in your air you will need to quickly and effectively expel the contaminants from your environment. An air purifier can do marvels for removing the fine particulate matter found in wildfire smoke that is trapped in your air. When you are looking for an effective air purification system for wildfire smoke, you want to make sure that it focuses on particulate removal with a high-efficiency HEPA filter. The EnviroKlenz Mobile System is effective at eliminating potentially hazardous chemicals found in the air following a wildfire. It provides toxic and noxious chemical elimination capabilities with a smoke air filter in a system that also filters particulate matter with a hospital-grade HEPA filter that can eliminate matter down to 0.3 microns in size. Just a few components of smoke that EnviroKlenz can help with include:
Corrosive Gases
Particulate matter
Hydrocarbons
Fats & Oils
Resins & waxes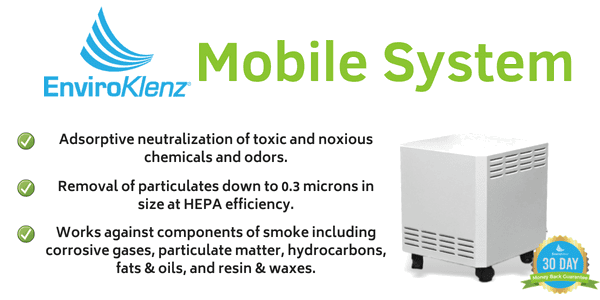 Our Recommended Solution…
EnviroKlenz Recommends
EnviroKlenz Mobile Air System

$729.99
4-speed controls
Comes with EnviroKlenz Air Cartridge (VOC Neutralization) & HEPA filter (particulate removal)
Height: 19: x Width: 15" x Depth: 15"
Net weight: 38 lbs
Power: 115V / 60Hz / 1 amp
CFM Rating: 85, 150, 200 & 250
4 speed blower
EnviroKlenz Mobile Air System, 250 CFM Type – 115V
One of the best air cleaner options on the market
The EnviroKlenz Mobile Air System is your solution to removing VOCs and chemical pollutants from your indoor environment. With the use of a hospital-grade HEPA filter and an effective earth mineral technology air cartridge, this two-stage filtration is perfect to place in your indoor space to mitigate potential hazards to your health. Whether you have chemical sensitivities, allergies, or are just looking to improve your indoor air quality, the EnviroKlenz Mobile Air System is your answer!
✓ Simple and Easy to Set-Up, with Minimal Maintenance
✓ Replace Air Cartridge every 4 to 6 Months
✓ HEPA Filter Replaced Every Two Years
✓ Quiet Operation, 4-Speed Motor
✓ No Chemical Odors Released!
We are confident that our EnviroKlenz Technology will drastically reduce the odors in your home, if it doesn't live up to your expectations, we will issue a full refund within 30 days of your purchase!
Click below to buy NOW!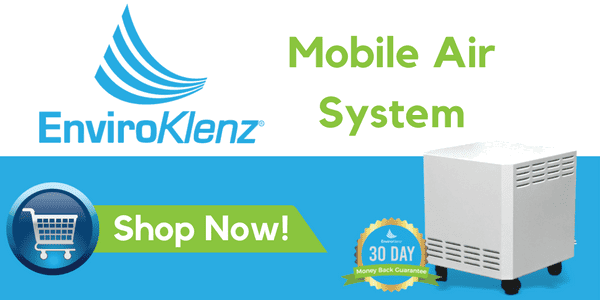 Hear What People Are Saying About Us…
"Months after the 2017 Forest Fire Season, previously known as summertime in western Montana, that fine particulate we all breathed for weeks on end continues to be problematic. Persistent sinus issues, in particular, have become a norm. We are planning a big push to introduce our patient population to the Enviro-Klenz family of air-filtration products. The folks at EnviroKlenz have developed an affiliate program that brings long-term benefits to the practitioner as well as the patient; and, they responded immediately to our ask for support, by developing a data sheet specifically for the wood-smoke aspects of their filtration systems. Enviro-Klenz is a responsible and responsive company I am delighted to be working with."

Nancy Dunne, Montana Association of Naturopathic Physicians -⭐⭐⭐⭐⭐

"I absolutely LOVE my Enviroklenz air purifier. I live in Los Angeles with very poor air quality. In my home I now have peace of mind that my indoor air quality is safe and relish coming home after breathing in toxic air when I'm out. Detox is the top priority in my home and my air purifier helps me to meet my health goals by preventing toxins from entering my body via the air."

Wendy Myers, Media Kit -⭐⭐⭐⭐⭐