Improve Indoor Air Quality Naturally in Your Home
Is the indoor air in your home contaminated? You may have answered no, but chances are your home is unknowingly filled with unwanted chemicals and toxins that can taint your home's air and can potentially place your health in a compromising state. According to the EPA (https://www.epa.gov/indoor-air-quality-iaq/improving-indoor-air-quality), indoor air is found to be 2 to 5 times more polluted than outdoor air, therefore air quality in your home will often times require some sort of filtration to improve the quality inside your personal environment. There are many things that can contaminate your indoor air such as paint, furniture, smoke, mold & mildew, cleaning products, & flooring. As these items release VOCs into the air, the volatile compounds will sit in your air polluting the quality of the air you breathe in. Many new homes are built tightly to help lower energy cost, but in return, these tight homes are restricted of air flow coming in and out of the space, thus leaving contaminated air to sit in the confined space.  What can you do when your air has become filled with toxic contaminants that could potentially impact your health?
Which Natural Process Most Effectively Removes Particulates from the Air?
The majority of people will become aware of when their air is contaminated with VOCs or other toxic chemicals. If you have allergies or asthma, your symptoms may become exacerbated in these toxic conditions. Some symptoms to look out for when faced with a polluted indoor air space includes:
Dryness and irritation of the eyes, nose, throat, and skin
Headache
Fatigue
Shortness of breath
Hypersensitivity and allergies
Sinus congestion
Coughing and sneezing
Dizziness
Nausea
Once, you have determined that your home's air is more polluted than you initially anticipated, you will need to figure out a solution – preferably natural – to improve indoor air quality in your home. Air filtration is among one of the top solutions to improve indoor air quality naturally but selecting the right air purifier is where the difficulty may occur. Many air purifiers utilize one of the three main technologies, carbon, ozone, or ionizers; however, these technologies are far from natural. Thus, the EnviroKlenz Mobile System is the natural air purification device you would want to use. EnviroKlenz Mobile System utilizes a proprietary technology called, adsorptive neutralization, this process uses naturally occurring earth minerals to effectively take in and break down a broad spectrum of chemicals and noxious odors. Unlike other technologies, the EnviroKlenz technology does not re-release any chemicals or by-products back into the environment, leaving you with both a filtered and chemical free environment. To learn more about the EnviroKlenz Mobile System, click the picture below!

Our Recommended Solution…
[show_product_inpage product_id=99]
The EnviroKlenz Mobile Air System is your solution to removing VOCs and chemical pollutants from your indoor environment. With the use of a hospital-grade HEPA filter and an effective earth mineral technology air cartridge, this two-stage filtration is perfect to place in your indoor space to mitigate potential hazards to your health. Whether you have chemical sensitivities, allergies, or are just looking to improve your indoor air quality, the EnviroKlenz Mobile Air System is your answer!
✓ Simple and Easy to Set-Up, with Minimal Maintenace
✓ Replace Air Cartridge every 4 to 6 Months
✓ HEPA Filter Replaced Every Two Years
✓ Quiet Operation, 4-Speed Motor
✓ No Chemical Odors Released!
We are confident that our EnviroKlenz Technology will drastically reduce the odors in your home, if it doesn't live up to your expectations, we will issue a full refund within 30 days of your purchase!
Click below to buy NOW!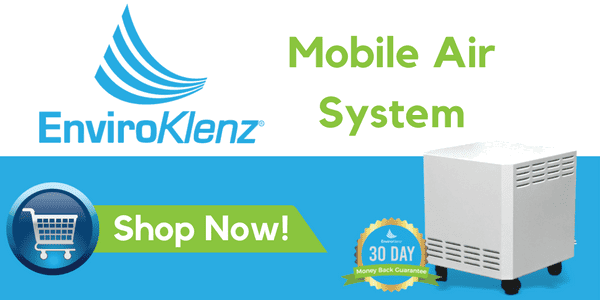 Hear What People Are Saying About Us…