EnviroKlenz Air System Plus
$799.00
-
Meet a new way to purify your air. Our breakthrough air purifying technology utilizes safe earth minerals to eliminate harmful toxins in the air – including toxic chemicals, pathogens, allergens, and other not-so-good contaminants. The EnviroKlenz Air System Plus achieves the same pure air filtration as our standard model, using medical-grade HEPA filtration paired with our patented earth mineral Air Cartridge, and adds a third layer of UV-C protection for internal sanitation of microorganisms like viruses, bacteria, and mold. Make your space a pure-air haven – at EnviroKlenz, we tackle all things bad, so you can breathe in the good.
Air System Plus Specifications
Size – 15″ x 15″ x 22″
Weight – 40lbs
Decibels – from lowest to highest speed; 54dB, 56dB, 59dB, 62dB
Rated air flow of fan per speed – 85CFM, 150CFM, 200CFM, 250CFM
The EnviroKlenz Air System Plus provides unmatched air filtration, using:
EnviroKlenz Air Cartridge – made with a patented blend of earth minerals designed to capture, neutralize, and destroy a broad range of airborne toxins and particulates, like VOCs, chemicals, and microscopic pathogens
H13 HEPA filter – effectively captures particulates including dust, dander, smoke, pollen, and other allergy triggers
UV-C Bulbs – two UV-C bulbs work as an added layer of protection against microscopic viruses, bacteria, and mold, keeping your system internally clean.
Effectively filters up to 1,000 square feet of space, 3 to 5 times every hour, for maximum clean air protection
Easy set-up and requires minimal maintenance – just turn your system on and let it take care of the rest. Air Cartridges are completely recyclable for sustainable disposal.
Made to deliver clean air in any place or space, with mobile wheels and customizable levels for noise and speed to give you control over your clean air – where you want it and how you want it.
Built to last using durable metal exterior to withstand everyday use
Breathe in the good, we've got the bad covered.
Carbon
Ionizers
PCO
HEPA
FAST-ACT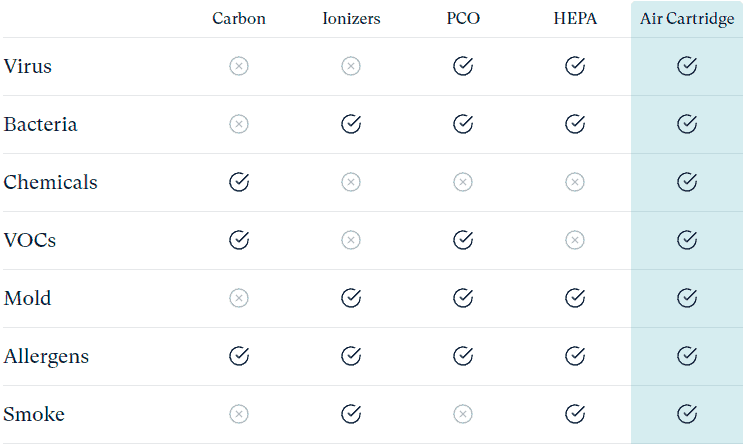 Phi x 74 (Virus) Removal Rate
E. Coli (Bacteria) Removal Rate
Staphylococcus Epidermidis (Bacteria) Removal Rate
Third-party tested and validated
CHEMICAL TESTING
VIRUS TESTING
BACTERIA (+) TESTING
BACTERIA (-) TESTING
MOLD TESTING
Providing pure, clean air to over 6 million people, worldwide.
Real-World Case StudiesEnviroKlenz has conducted case studies in various locations to validate the performance and efficacy of the Air Systems in real-world settings. See the results below.
MUNICIPALITY BUILDING
K-12 SCHOOL
NURSES STATION
CAFETERIA
MUNICIPALITY BUILDING
With Air System OFF
Over a three-day span, PM2.5 levels average 300% greater than EPA's National Standards, reaching spikes as high as 43 ug/m3.
With Air System ON:
PM2.5 is reduced by 95% from the highest recorded spike and is consistently kept within the Top 10 Percentile.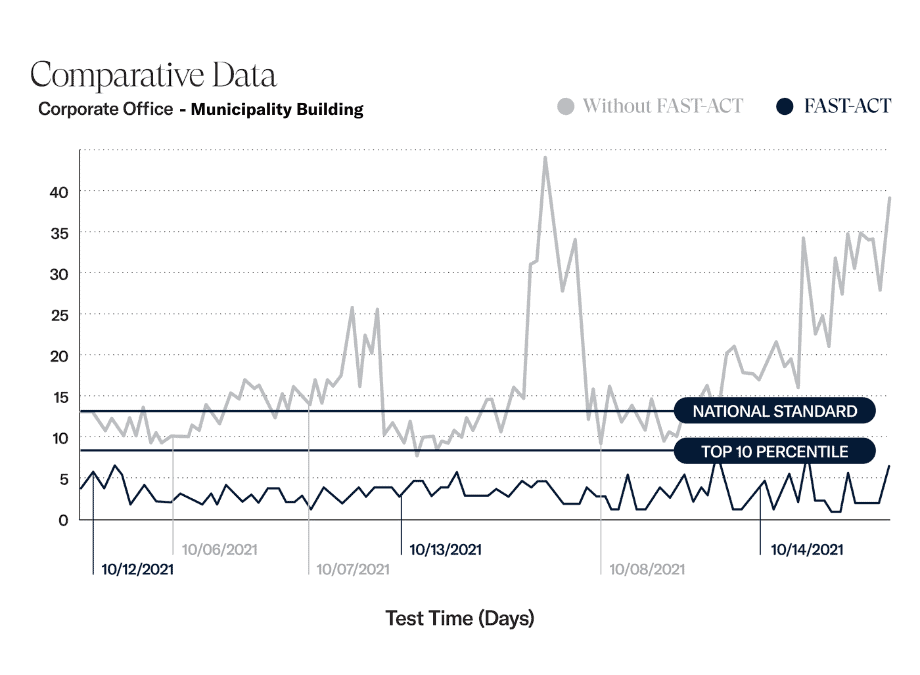 K-12 SCHOOL
With Air System OFF
Baseline readings show the expected impact of student movement in the facility, with the highest spikes during high traffic times such as arrival and dismissal.
With Air System ON:
With EnviroKlenz Air Systems turned on, spikes level off and the monitored area is able to maintain PM2.5 levels at or below the EPA's national standard.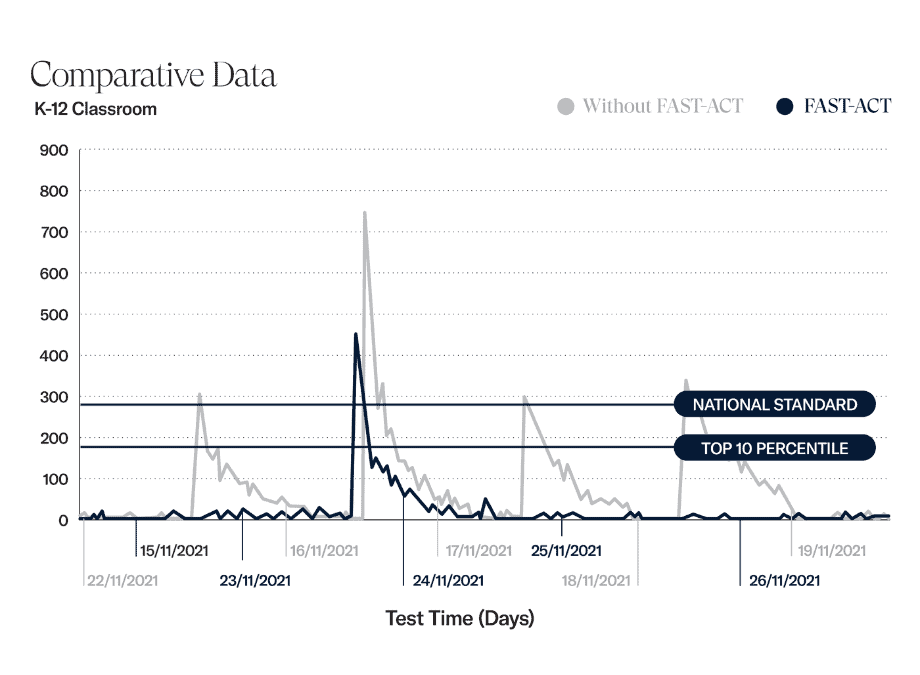 NURSES STATION
With Air System OFF:
PM2.5 is 52% higher than EPA's national standard, averaging at 15.25ug/m3 of PM2.5.
With Air System ON:
Levels of PM2.5 are approximately 63% lower than average measures taken without added filtration; this is also 20% lower than EPA's national standards.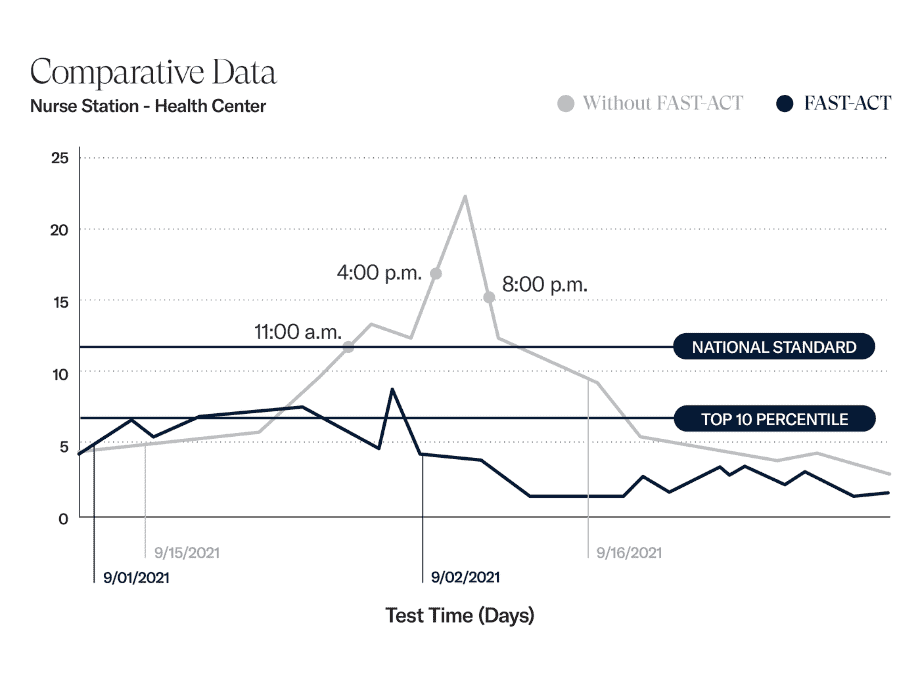 CAFETERIA
With Air System OFF:
PM2.5 is 300% higher than EPA's National Standard; spikes correlate to operational hours, with a maximum measure of 42 ug/m3.

With Air System ON:

PM2.5 levels decrease an average of 93.8%, with an average measure of 2.5 ug/m3; particulate matter is consistently kept within the Top 10 Percentile.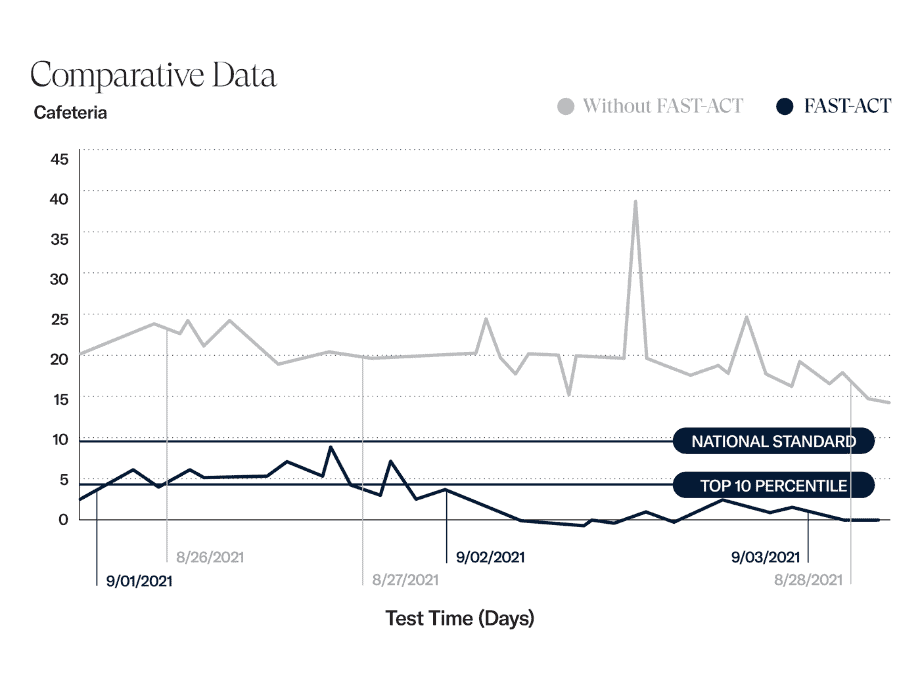 Frequently Asked Questions
How many square feet can the Air Systems Cover?
The EnviroKlenz Air System effectively treats up 1,000 square feet of space, providing 3-5 air exchanges per hour.
What is the difference between the Air System and Air System Plus?
While they contain the same powerful FAST-ACT technology and filtration system, the difference between the two systems is that the EnviroKlenz Air System Plus is slightly larger and contains (2) UVC Bulbs, which provides an extra layer of germicidal irradiation, as well as internally cleans the system.
How many speeds does the Air System have?
The EnviroKlenz Air System Plus has 4 speeds, they are 85 CFM, 150 CFM, 200 CFM, and 250 CFM.
How long will the filters last?
The HEPA filter will last approximately 2 years, and the EnviroKlenz Air Cartridge will last approximately 6 months. The actual lifetime is dependent on environmental conditions and chemical pollution concentration present in the environment it is used in, which can require more frequent change-outs.
How long do I need to run the Air System before I notice a difference in my air quality
You can often start to notice improvements within hours, but depending on the environmental conditions and contamination level, it may be quicker or longer.
Will the Air System remove general odors and chemical odors?
Yes, the EnviroKlenz Air Cartridge is embedded with the FAST-ACT technology which captures and neutralizes viruses, VOCs, chemical odors, and fragrances. This serves as the primary filtration stage within the Air System.
How does the Air System compare to other air purifiers
While many purifiers only deliver partial filtration, our breakthrough FAST-ACT technology captures and neutralizes harmful VOCs, chemicals, pathogens and other containments that even the best HEPA filters can't capture. And unlike the leading competitors, the EnviroKlenz Air System will never re-release toxins back into the environment or create harmful by-products from captured pollutants.
How is the FAST-ACT technology different than carbon?
While carbon filters may capture VOCs and block some odors, they can't capture microorganisms like bacteria or viruses, let alone destroy them. Even worse, carbon filters can re-release captured pollutants back into the air once they become full. Our FAST-ACT technology uses earth minerals to capture, neutralize, and destroy airborne toxins, allergens, viruses, bacteria, particulates and other contaminants for good, without ever releasing anything harmful back into the environment.
Where can I find the user manual?
Here is the user manual. If you have further questions about your Air System Plus, don't hesitate to contact Customer support.
02/13/2023
I spent 2 weeks researching the best air filtration device and came to the conclusion that I should give this one a try. It's awesome. I have let friends and family borrow it and would recommend it to everyone. It is more expensive than others? Sure. But it's so worth it if you are concerned about air quality.
mark carraway (verified owner)
09/26/2021
Had this unit over a year now and it has made a difference, you can smell the freshness of the air. Had a power cord issue. Adam at the warranty center was quick to send a box and a return label. Week later unit arrived back at my doorstep and what a difference it was not having it. Thank you Enviroklenz for the great work and even better customer service!!
The EnviroKlenz air purifier has helped the whole family get through two summers in a row where we had high levels of smoke in the air due to the wildfires in the area. It works within minutes and we leave it running on med/high 24/7 on those days and it makes a HUGE difference in keeping us safe from hazardous particles. We also use it regularly on low to remove dust and it helps prevent seasonal allergies. Absolutely happy with this purchase. Thank you!
Great product, working as advertised, happy with machine.
Linda C. (verified owner)
09/08/2021
I absolutely love this Air Purifier. I feel safe and know that it's working. I don't have guests over because of the surge in my state. But I am confident that if I did, our home and family are well protected, I recommend schools get the EnviroKlenz system. I mostly appreciate the company hard work. Made in America, charms my heart.