EnviroKlenz Mobile Air System
The Specs
4-speed controls
Comes with EnviroKlenz Air Cartridge (VOC Neutralization) & HEPA filter (particulate removal)
Height: 19: x Width: 15" x Depth: 15"
Net weight: 38 lbs
Power: 115V / 60Hz / 1 amp
CFM Rating: 85, 150, 200 & 250
4 speed blower
EnviroKlenz Mobile Air System, 250 CFM Type – 115V
This  EnviroKlenz mobile air system uses hospital-grade technology to guarantee the air in your home or office space stays as clean and pure as possible.
It's got certified HEPA filtration, but that's just the baseline. On top of that, we've added our own unique-to-us patented EnviroKlenz Air Cartridge that does, even more, to remove and neutralize VOCs, malodors, and fragrances.
It covers up to ~1000 square feet with a quiet, efficient multi-speed blower that you can adjust to meet your needs. (The low setting is so quiet it's basically silent. And while you can hear the medium and high setting, it's a pleasant hum of non-disruptive background noise… it doesn't sound like a broken lawnmower the way some fans and filters do.)
Better yet, there's no tools required for maintenance, and the filter replacements are always available and easy to purchase from our website.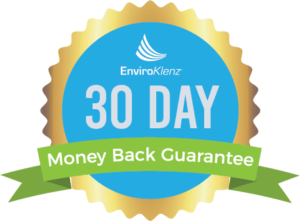 Description
What makes EnviroKlenz Mobile the best air cleaner?
The EnviroKlenz Mobile Air System is your solution to remove VOCs from your home or office both safely and effectively. The unit is portable and once the EnviroKlenz-Air® Cartridge (size 14"x14" included with purchase) is installed it will begin to remove and neutralize chemical odors, allergy triggers, and malodors in the air.
EnviroKlenz Mobile Air System utilizes hospital-grade technology to provide maximum air cleaning efficiency for your home and office. Enviro-Air Mobile combines certified HEPA filtration along with our patented EnviroKlenz-Air Cartridge to remove airborne pollen, dust, odors, mold, gasses, fragrance, VOCs, allergens, bacteria, and more.  Keep reading to see why this is one of the best air purifiers for allergies.
Is it the best air purifier for allergies? How does the EnviroKlenz Technology work?
The technology behind the EnviroKlenz Mobile Air System utilizes advanced, patented materials to safely neutralize a broad spectrum of toxic and noxious chemicals and odors, making it one of the best air purifiers for allergies on the market.
These earth minerals have a high surface area that gives ample active sites to contact the chemical pollutant, but they additionally can break down chemicals through a variety of chemicals mechanisms and pathways, safely. This is a significant advantage over carbon media which does not break down chemicals, meaning they could be released back to the environment. Due to this technology, EK Mobile is considered one of the top of the line, one of the best air purifier options around!
What makes the EnviroKlenz Technology different and the best air cleaner around?
Our safe earth mineral media is packed into a 2-stage filtration process that combines traditional particulate removal (such as HEPA filtration) with the EnviroKlenz cartridge to accomplish what traditional mechanical filtration cannot do alone. Air filters only remove particulates, but with the EnviroKlenz Cartridge, chemicals, odors, and other liquid or vapors can be captured and/or neutralized. Best of all, this process occurs without releasing harsh chemicals or byproducts to the airspace, leaving the best evidence of all, no odor. All this technology makes this system one of the best air cleaner around! However, consider our portable UV Model for one of the best air purifiers for mold and mildew!
Health benefits of Using the EnviroKlenz Mobile System
Neutralization and removal of chemical pollutants and VOC's
Reduction of airborne particulates such as dust, dander, and pollen that cause allergy symptoms.
 Capture of microorganisms and mold spores through a medical grade HEPA filter.
Who should consider the EnviroKlenz Mobile System
 Families and individuals looking to reduce indoor air pollution and exposure to noxious chemicals trying to live a greener lifestyle.
 Individuals with sensitivity to a broad spectrum of environmental triggers such as chemicals, allergens, particulates, and more.
 Businesses looking to improve Customer satisfaction and environmental appeal with a reduction in odors.
Why is the EnviroKlenz Mobile System the best air purifier for allergies?
The EnviroKlenz Mobile Air System utilizes a patented technology to capture and break down a wide variety of chemical pollutants without the need for releasing harmful chemicals to the environment.
 Combination chemical pollutants (such as VOCs) and particulate matter reduction.
 An elegantly simple design, that is easy to operate and maintain, while providing high air exchange and air movement.
Durable and long-lasting construction and consumables.
A multi-speed blower offers the quiet and efficient airflow. The low setting allows for near silent operation while still maintaining air flow. Medium to High speeds creates maximum air efficiency at noise levels still suitable for residential and commercial use.
What are the health effects of VOC exposure?
To truly understand why you need to invest in the best air purifier for allergies, you need to understand health effects of VOCs and more. 
The risk of health effects from inhaling any chemical depends on how much is in the air, how long and how often a person breathes it in. Scientists look at short-term (acute) exposures as hours to days or long-term (chronic) exposures as years to even lifetime.
Breathing low levels of VOCs for long periods of time may increase some people's risk of health problems. Several studies suggest that exposure to VOCs may make symptoms worse in people who have asthma or are particularly sensitive to chemicals. These are much different exposures than occupational exposures to VOCs. It is recommended that you treat the source first the use the best air cleaner to restore your home's indoor air quality.
VOCs refer to a group of chemicals. Each chemical has its own toxicity and potential for causing different health effects. Common symptoms of exposure to VOCs include:
Short-Term (Acute) to high levels of VOCs
Eye, nose and throat irritation
Headaches
Nausea / Vomiting
Dizziness
Worsening of asthma symptoms
The Best Air Purifier For Allergies And For The Chemically Sensitive?
Those who are chemically sensitive or suffer from environmental illnesses must be mindful of the dangerous VOCs and chemicals odors that may contaminate their homes. The cleaning products, building materials, and cooking that we do in our homes may contribute to high levels of dangerous VOCs in our indoor air space. This is why we recommend our EnviroKlenz Mobile – one of the best air cleaner systems on the market.
Research studies have revealed that the level of VOCs inside your home is typically 2 to 5 times higher than the level of VOC's outdoors. VOC concentrations inside of your home can be a result of many factors and it is recommended that you treat the source first the use an air filtration device or best air purifier for allergies or the best air cleaner to restore your home's indoor air quality.