How to Remove Mildew Smell From Carpet
How to Remove Mildew Smell From Carpet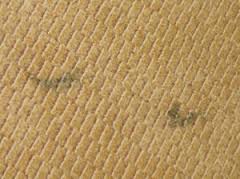 Carpeting makes a nice addition to our homes and besides providing a more comfortable place to sit and lay on it actually retains warm air longer, and serves as a means for conserving energy. The problem is the difficulties of maintaining a clean carpet and if you ever had to deal with removing mildew smells from your carpet then you can relate to how difficult this task can be. The carpeting in your home can harbor mildew and musty smells if you suffer from allergies and respiratory illnesses this can cause some health complications.
Most flooring and rug manufacturers suggest vacuuming your carpets, at least, one to two times a week. The fibers in your carpet attract and retain moisture, pet dander, and dust making it a breeding ground for allergens and drastically reducing the indoor air quality in your home. Having a routine vacuuming schedule will help reduce the amount of dust mites and particulates that you are exposed to but will not put you clearly out of the woods just yet. It is also recommended that you clean the carpeting in your home bi-monthly or at minimum twice a year. If you are chemically sensitive or fragrant sensitive this can pose a challenge because the majority of carpet cleaning shampoos and carpet cleaning products contain harsh chemicals and fragrances.
Remove carpet odors naturally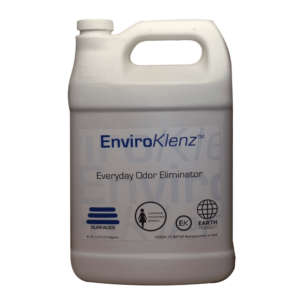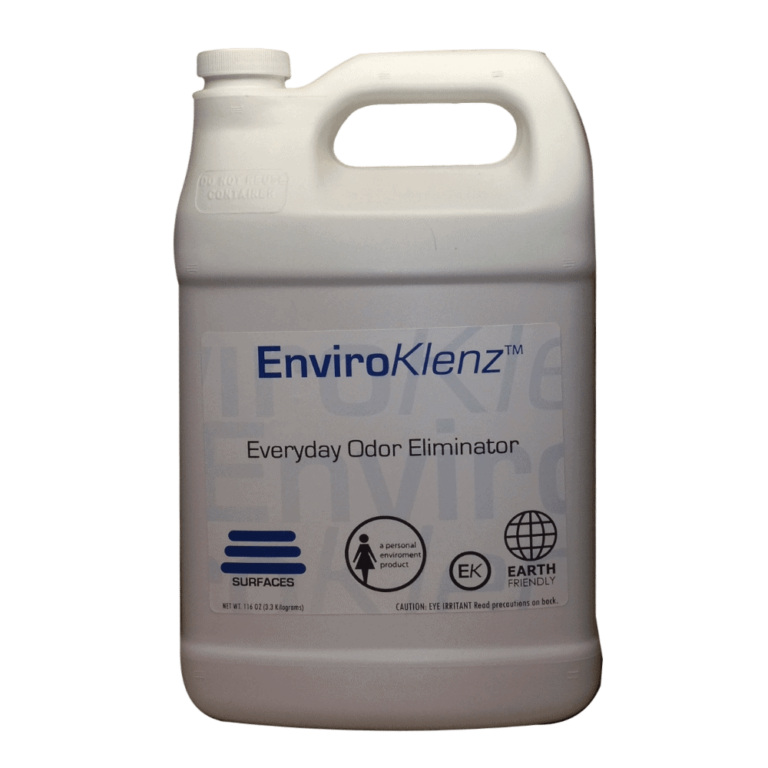 A common question that we receive on the EnviroKlenz contact form is " I am chemically sensitive and I need a product that can help me get my carpets clean without the risk of making me sick or ill, what can I use? In response to these question, we created our EnviroKlenz Everyday Odor Eliminator and the reasoning behind the name of the product is that we feel you can safely and effectively use the product in your routine cleaning regimen to remove unwanted odors and fragrance right at the source. The product contains no harsh chemical, fragrances, or masking agents and unlike any competing products, it works to attack and neutralize the odors versus masking or encapsulation.
Since the technology, EnviroKlenz technology works on a broad spectrum which allows it to remove a whole host of stubborn odors, musty odors, chemical odors, and fragrances without the use of multiple products. Enzyme require the right protein or configuration depending on the odor at hand and very often can take anywhere from 24- 48 to begin working and the success rate is reduced as the area begins to dry with EnviroKlenz there is no need to detect what odor is present and it work to neutralize the odors the moment it makes contact with the odors.
Removing mildew smell from carpet
For carpet that have a wet or mildew smell to them just apply the EnviroKlenz Everyday odor eliminator directly on the carpet or the source of the odors. This can be done by diluting the EnviroKlenz product into a pump sprayer in a 4 parts water 1 part EnviroKlenz ratio or you can actually apply it directly onto the carpet as well without dilution. Prior to cleaning your carpets, it is highly recommended that you vacuum or brush up any debris or dirt from your carpeting. Prepping the area increases your success rate so take the time to ensure that the room is ready for cleaning prior to starting. Now you are ready to for the cleaning and odor removal stage you may now dampen the carpet that you are going to clean.Apply the EnviroKlenz Everyday Odor Eliminator and allow for 10-15 minutes of contact time and once the time has elapsed you may come behind and vacuum up any residual or for optimal result use a hot water extractor and begin to extract the water out of the carpets.For more information on how to remove new carpet odors or chemical odors from your carpet click here