EnviroKlenz Laundry Enhancer Powder
Made from Earth Minerals & Non-Toxic Ingredients
Fragrance-Free
Safe To Use on All Machine Types including HE Machines
Works To Remove chemical & malodors from all machine safe fabrics
Get Smells Out From Clothes Safely & Naturally
Every Single Fabric in Your Home: Clean, Fresh, & Odor Free
Our EnviroKlenz laundry enhancer acts as a boost to your normal favorite detergent. Our, patented earth mineral technology attaches to chemical and malodors and neutralizes them on contact. Normal detergent work by masking or slightly reducing the odors but are limited to or kinds of odors that it can remove. Chemical odors mesh themselves deep into fabrics and are sometimes almost impossible to get out using traditional methods and home remedies but that is where the EnviroKlenz technology strives to completely remove and neutralize stubborn odors that normal detergent leave behind.
Maybe your teenage son left his sweaty soccer uniform sitting under a wet towel in his bedroom for a week. Maybe you've brought your summer clothes out of storage, only to realize they smell exactly like the plastic box you've been storing them in all winter. Or your best friend borrowed your favorite dress, but now it reeks of her perfume. Or you've just bought some new curtains, but they've got this awful chemical smell that makes you sneeze and that just won't wash out.
No matter what the situation is, this small but mighty laundry powder is the "magic ingredient" that makes it all okay.
It's safe to use in any type of washing machine and on most types of fabric.
Safe on: Cotton, delicates, nylon, polyester, spandex, washable lace, washable rayon, washable wool, and any other fabrics the manufacturer deems safe to put through a wash cycle.
Soda Ash
Magnesium Oxide
Zinc Oxide
Titanium Dioxide
How to Use the EnviroKlenz Laundry Enhancer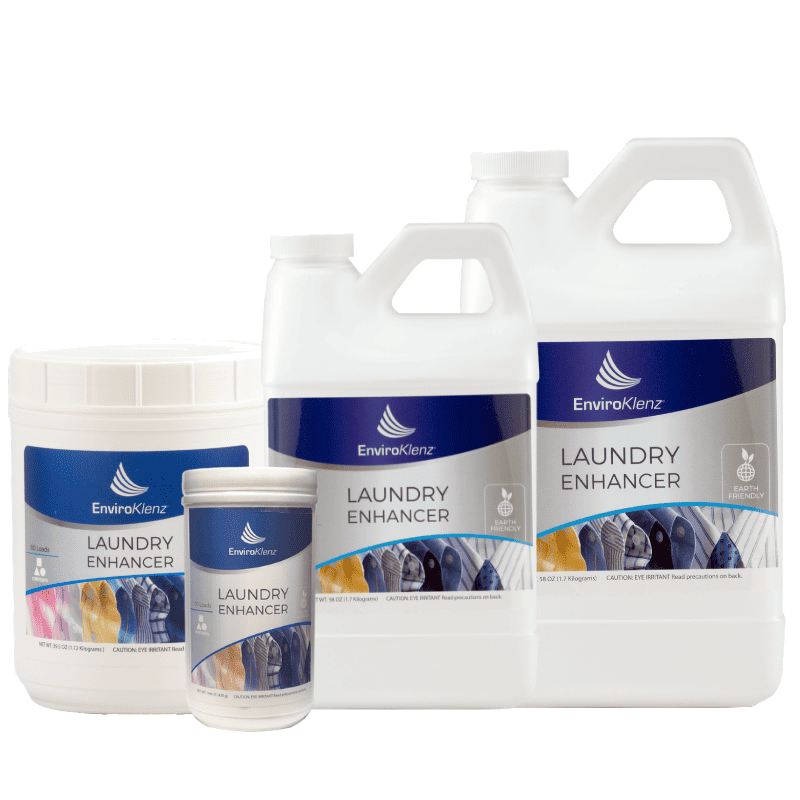 EnviroKlenz Laundry is a safe and effective laundry enhancer that removes stubborn laundry odors such as musty & mildew smells, fragrances from detergents & fabric softeners, perfumes smell and scents, thrift store odors left on clothing by the previous owner. EnviroKlenz Laundry Enhancer works along with your normal detergent to enhance its ability to remove those tough odors that would normally be impossible to remove and best of all EnviroKlenz laundry Enhancer contains no masking agents or fragrances providing you with clean and odor results.
Safe clothing can be a huge problem for those with MCS/ES, allergies, or environmental illnesses as they contain many harmful chemical odors such as formaldehyde, polyaromatic hydrocarbons, and arylamines which cause health and/or environmental problems. New clothing or clothing purchased second hand from a thrift store may be washed with EnviroKlenz Laundry Enhancer to safely remove chemical odors from the clothing and make them safe for the chemically sensitive to wear.
The EnviroKlenz Laundry Enhancer comes in two different versions, a liquid and powder version. Please read all the product label instructions and follow those directions as best as possible. The instructions below are a step by step guide for using both the liquid and powder EnviroKlenz Laundry Enhancers.
Liquid Version:
Add 1/4 cup (small load) or 1/2 cup (medium or larger load) of the Laundry Enhancer along with your regular (unscented) detergent to eliminate odors from your laundry.
For HE and front load washers, add the enhancer along with your detergent in the designated detergent slot.
For top load washers, first partially fill the tub with water. Next add your normal detergent, followed by the enhancer.
For the best results use warm water and do not use in combination with bleach or vinegar.
Powder Version:
Add 1 scoop (small load) or 2 scoops (medium or larger load) of the Powder Enhancer, along with your regular (unscented) detergent to eliminate odors from your laundry.
For HE and front load washers, add the enhancer along with your detergent in the designated detergent slot.
For top load washers, first partially fill the tub with water. Next add your normal detergent, followed by the Powder Enhancer, agitate the powder in a tub with water and then you can add the clothing.
Application & Instruction Guide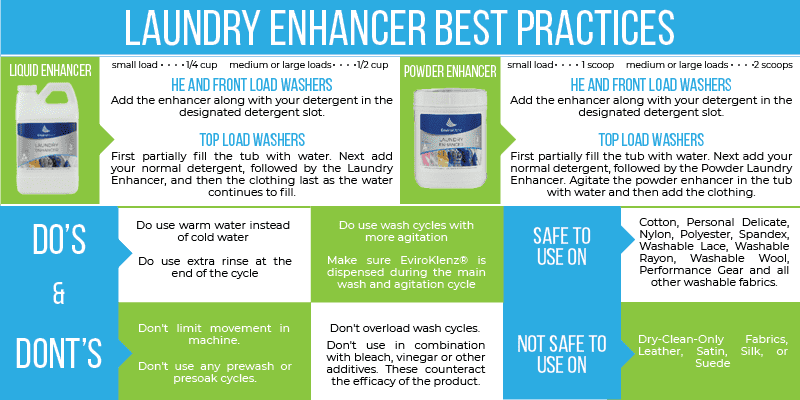 The EnviroKlenz Laundry Enhancer is safe for use on cotton, personal delicate, nylon, polyester, spandex, washable lace, washable rayon, washable wool, and all other washable fabrics. Not intended for use with bleach or on dry-clean-only fabrics, leather, satin, silk, and suede. This product is safe for the environment, made from proprietary materials. Safe to use in High-Efficiency washing machines.
Instruction Guide:
Here are some suggestions and settings to use that encourage contact between our product and the offending odor/chemical source during the wash.
Do:
✓ Use wash cycles with more agitation
✓ Warm water instead of cold water
✓ Extra rinse at the end of the cycle
✓ If your machine dispenses laundry products at timed moments in the wash, make sure our product is dispensed during the main wash and agitation cycle, not in a prewash or final rinse cycle
Do not use:
✘ Any prewash or presoaks cycles. Please do not use prewash or presoak cycles. If your machine has these types of cycles and you added our product to the wash basin, it will likely be removed from the wash before it has anytime to interact with the odor source.
✘ If the laundry additive folded inside of fabrics. Please do not have the additive in a situation where it does not freely move within the wash. Since our product does not behave like laundry detergent, it needs to be able to freely move within the Overloading into contact with the offending source odor.
✘ Overloaded wash cycles. Overloading the washing machine makes it difficult for the product to work properly. The level of contamination may be too much for the recommended dosage and the product may not be able to fully contact all the odor sources in the wash.
✘ Do not use in combination with bleach, vinegar or other additives.
What is the difference between the powder and liquid version of the laundry additives?
Both versions use the same technology and are optimized differently solely based on user preference. For front load washer we recommend going with the liquid versions and for top load, either the liquid or powder versions will provide optimal results.

Does this product have any perfumes or masking agents?

No. Our products are totally free of any added fragrance: via perfume, chemical compounds, or otherwise.

What is the difference between EnviroKlenz and OdorKlenz?

Our line of OdorKlenz products (which was released before EnviroKlenz) are specifically designed to clear out odor issues that everyone deals with from time to time. It's much more of a mainstream product for pet odors, malodors, and sports odors.

What are the ingredients in EnviroKlenz?
We only use three active ingredients: MgO (magnesium oxide), ZnO (zinc oxide), and TiO2 (titanium dioxide) powders.

Can I use the laundry additive with vinegar?

We do not recommend using any EnviroKlenz products in conjunction with vinegar. The reason being the technology will work to attack and break down the vinegar and may alter its efficacy against removing the odors and fragrances from your clothing

What if EnviroKlenz doesn't work for me?

We're 100% confident that they will work for you, but if for any reason you're dissatisfied with the products, they all come with a money-back guarantee

Will EnviroKlenz laundry enhancer remove perfumes from thrift store clothes?

Yes. one of the main features of the EnviroKlenz laundry Enhancer is the removal of fragrances and perfumes

Do I need to use a detergent with EnviroKlenz laundry enhancer?

Yes. it is very important that you still use your normal detergent with the EnviroKlenz laundry Enhancer

Is your laundry booster strong enough to get the horrid smell out of thrift store clothes?
Yes! We know clothes from the thrift store, while they're cool & are environmentally-friendly purchases, sometimes smell terrible and there's no telling how long ago they were washed or what they've been through since then.
The main feature of our laundry booster is that it removes all unwanted fragrances… musty smells from old closets, tacky perfumes, or ingrained cigarette smoke.

Can I replace my detergent with your laundry enhancer?

We'd advise that you don't. Our products are optimized to get rid of allergen and chemical-based smells and don't include detergent-like ingredients that get out stains and dirt. For a truly clean, it's better if you use your normal detergent alongside our laundry booster.